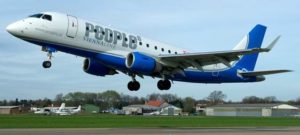 Bravo Passenger Solution Pte. Ltd. is delighted to announce that People's Airline has extended their contract with Bravo for a further five years.
"The Bravo PSS Solution fits our needs as a small regional carrier. The Bravo PSS Solution provides a very high reliability, which is of the highest importance. In general, we are focusing on providers aiming a sustainable partnership in an open and fair environment." Said Thomas Krutzler, Chief Executive Officer of People's
People's is a regional airline with headquarter in Vienna but based and operates from Swiss airport St. Gallen-Altenrhein Airport since 2011.
People's Airline expanded from their single scheduled flights between St. Gallen-Altenrhein Airport and Vienna and today we can see their operation of one year-round scheduled flights, various seasonal scheduled and charter services across all Europe.
"Bravo is pleased to be a partner of People's and value the trust this contract extension represents," said Jason Bitter, CEO of Bravo.